EEHHAAA- Earn Money Online | Is It Real or Fake?
Have you come across a website named "EEHHAAA"? Are you confused about using the "EEHHAAA" website? If yes, this article will be a helpful guide for you as it will provide you with complete information about "EEHHAAA", how to use it, whether it is genuine or fake, and much more.
What is EEHHAAA?
"EEHHAAA" is an online platform that claims to let visitors earn money by watching advertisements. Simply put, the website pays its customers who care about advertisements on the platform. However, to start earning, you have to register on the "eehhaaa" website. Or if you have already created your account, you just need to log in to the "EEHHAAA" website every time you want to watch advertisements.
About EEHHAAA
Company Name – EEHHAAA

Website – https://eehhaaa.com/

Domain Registration – 16 September 2020

Status – Doubtful

Company Type – Finance / MLM

Language – English
How to Register to EEHHAAA?
To start using the platform to earn money, here are the steps you need to follow to register on EEHHAAA:
Go to

EEHHAAA's official website

.

Click on 'Register'.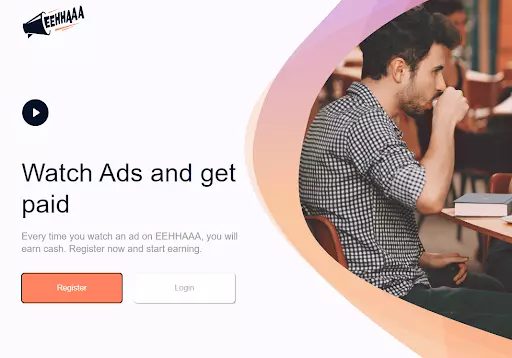 You will be directed to the registration page where you can create an account for free by entering your email. Enter the email and click on "Register". There are a few other options that you can also use to directly login to EEHHAAA website including your Google account, Facebook account, or JAA Lifestyle.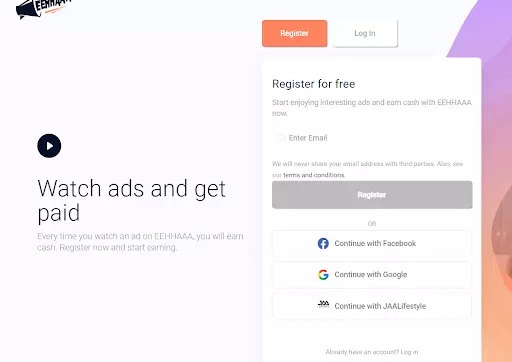 After entering the email, enter your first name, last name, and password. Enter the password twice and click on 'Continue'.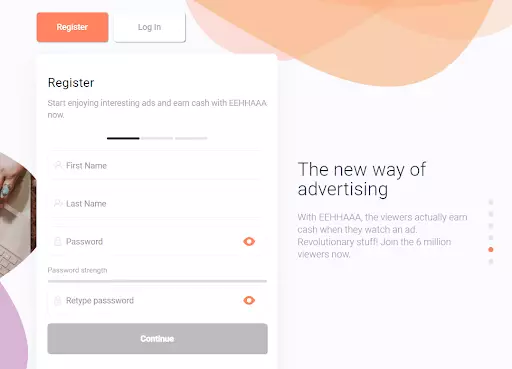 Then you have to mention your gender, enter date of birth and phone number and click on 'Continue'.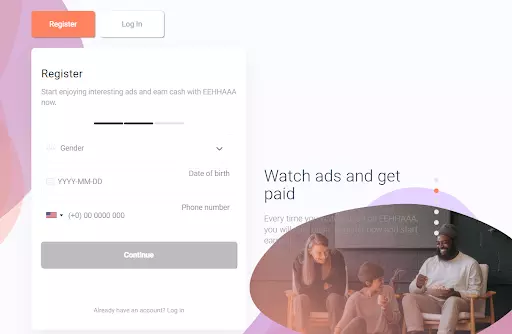 After that, enter your country and city, agree with the terms and conditions, clear the captcha and click on 'Continue'.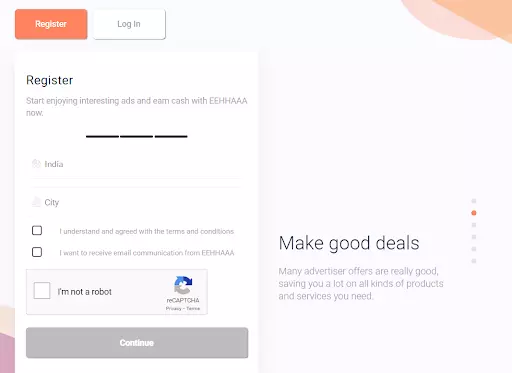 After that, you have to complete personal verification to start receiving earnings in your account. You will have to pay some amount in your currency to complete the verification.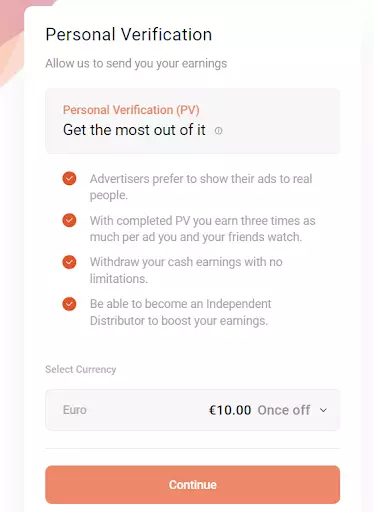 You can also skip this step but you will not receive your earnings unless you complete personal verification.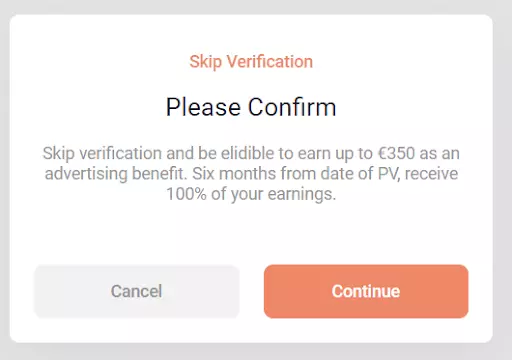 These were the steps that will help you to register on the EEHHAAA website.
How to Log in to EEHHAAA?
Once you have completed the registration for EEHHAAA, you can log in using:
Email address that you used for registration

Google account

Facebook account

JAA Lifestyle account
Is EEHHAAA Free to Use?
To start using EEHHAAA to earn money from advertisements, you will have to pay some amount in your currency during personal verification, only then you will be able to start earning and receiving money. So, EEHHAAA is not free to use.
Can you Actually Earn Money from EEHHAAA?
There is no proof or review available on the internet that EEHHAAA actually helps you earn money through advertisements. It only claims to do so. Also, as you are required to pay a good sum of money during registration, it seems to be suspicious.
Moreover, it is not recommended to enter any of your personal details like credit card details on a third-party app or website like EEHHAAA as you might put your information at risk. If you are still willing to put your trust in EHHAAA and your money at risk, that is completely your choice.
Frequently Asked Questions
Is EEHHHAAA a genuine or real website?
No, EEHHAAA doesn't seem to be a genuine website as upon registration, it asks you to deposit an amount and there is no guarantee whether you are going to get your money back or not. EEHHAAA is not a trustworthy website.
Is it safe to use a Website?
No, it is not completely safe to use EEHHAAA as it is an unknown website that claims to give its users money in return for watching advertisements. However, to start with the process of earning money, you have to pay a sum of money to them which makes them suspicious. Also, it requires you to enter your credit or debit card details to pay money, hence is not considered safe.
Can you earn money from EEHHAAA?
There is no proof that you can earn money from EEHHAAA. Some of the users have complained that the company is a fraud and they will only charge you money and you will never get any amount back or be able to use this platform to earn money. Hence, it is recommended to all users stay away from such suspicious websites.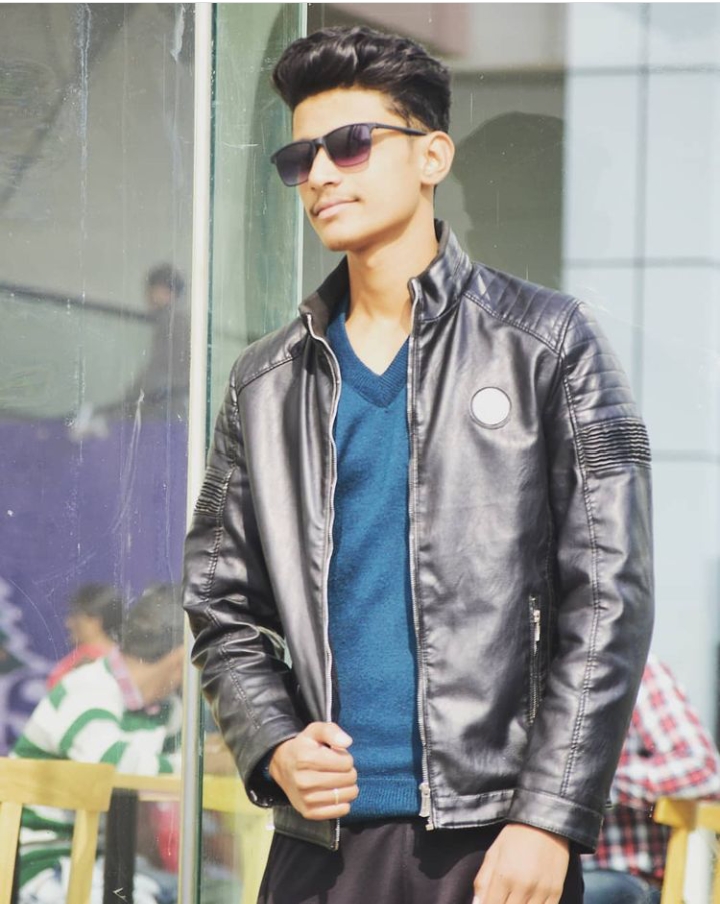 Abhishek is an SEO expert with experience of more than 2 years in the same field. His immense knowledge in technology also makes him a troubleshooting expert that is what his writing is all about.